American Access Casualty Company (AACC), A NORTH AMERICAN AUTOMOBILE INSURANCE COMPANY, WAS LOOKING TO DECREASE AUTO PHYSICAL DAMAGE APPRAISAL TIME AND EXPENSES WHILE INCREASING CUSTOMER SATISFACTION AND LOYALTY.
CHALLENGE
Prior to partnering with ClaimPix, AACC claims team relied on appraisers and independent adjusters for all auto claims estimates resulting in an average expense of $150 per claim.
In addition, AACC often had appraisal process times exceeding 4-7 days, causing an additional administrative burden between the carrier and the policyholder and ultimately making the auto claims process cumbersome for all parties involved.
The company sought a solution that would shorten the auto physical damage appraisal process, for the benefit of both the customer and the carrier. Their goal was to reduce the cycle time of the appraisal process post-loss while enhancing customer satisfaction.
The ClaimPix Solution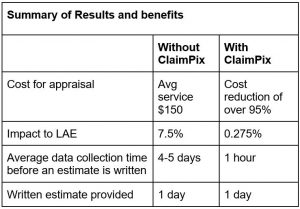 AACC choose ClaimPix, a simple to use photo claims platform, that lets the policyholder upload and send the auto damage photos directly to their insurance carrier, eliminating the need for a time consuming and costly on-site appraisal.
ClaimPix has transformed our claim intake and appraisal processes. It's easy to use and we're often turning around estimates within 24 hours of the claim being reported. ClaimPix is the clear winner and a superior product!" – Call Center Manager, AACC
ClaimPix provided their in-house appraiser the ability to write sheets directly from the time and location stamped, high-definition photos provided by the customers, saving both time and expense, and getting a check into their customers' hands quickly.
To date, AACC has processed over 15,000 appraisals using the ClaimPix platform, and have dramatically increased customer satisfaction and loyalty.
It's intuitive and easy to teach our customers how to upload and send their photo claims. Our previous tool would fail to send, required downloading an app and caused additional calls to our call center. We no longer have those issues with ClaimPix! Customers get the link while reporting their loss, send in their pictures and get an estimate within 24 hours…it's that easy."- Call Center Manager, AACC